Platinum Residences Building located in good place that 3.228 sqm at 6 Nguyen Cong Hoan street, Ngoc Khanh, Ba Dinh District, Hanoi, Platinum Residences is a complex apartment buildings with 21 floor that built on the plot having the area of 1.370 sqm with total area is about 36.189 sqm. Investor and Building management: Vietnam infrastructure investment & development joint stock company  (VIID).
Services and utilities of Platinum Residences Nguyen Cong Hoan
Platinum Residences is built in the grounds of independence, ensuring a separate space of the project with the security system equipped with multiple layouts ensuring absolute sense of security for the building. The lobby of the building is designed spaciously, with nearly 5m finishing ceiling tiles and advanced materials, ensuring luxury for the whole building.
In addition to the vast parking area, versatile service area in 1st and 2nd floor are arranged with the main function as nurseries and supermarkets; multipurpose room with other types of utilities will provide adequate services to residents living in the project.
Arrangement of 190 apartments in buildings with 21 floors, Platinum Residences are equipped with a modern lift system with 03 passenger elevators and 01 freight elevator lifts, multifunctional transport system ensures extremely convenient for residents throughout 24 hours and 07 days.
The building is designed with water tanks provide adequate water flow under the daily needs of the apartment and has the capacity to store additional water flow for 24 hours when dehydration occurs from the city's power supply. The water supply system, sewerage, wastewater treatment, transformer systems, backup generators, fire control systems are designed according to high standards to ensure the best conditions to meet for daily needs of the entire project area. Communications systems with modern equipment, providing communication networks have the most advanced technology so residents can select units offer versatile services on TV, intenet, phone line for the needs, interests her.
Below is the price of apartments for sale at Platinum Residences 6 Nguyen Cong Hoan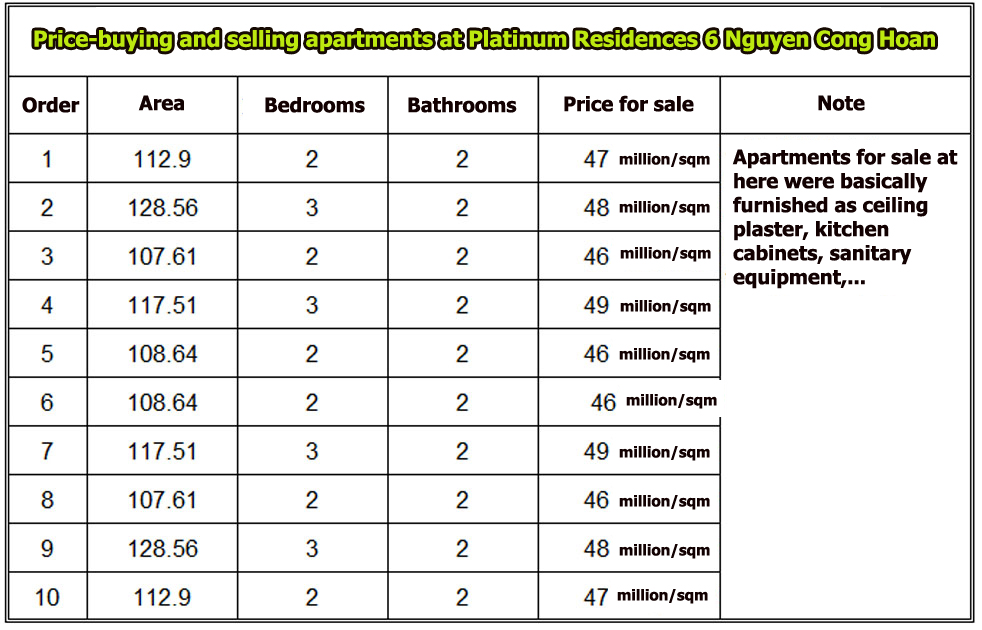 All information, please contact us for advice the fastest and most efficient.